Doorway Spill Barrier - Retention Barrier BL/BST
Article Index: 011
BL/BST:
Multi-functional

Slide insert

Dual-direction pressure, changeable on-site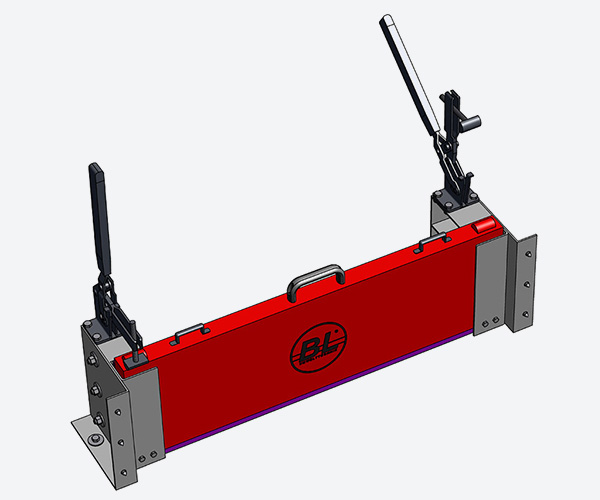 Dimensions

Standard height:

100–500 mm

Standard length:

750–6000 mm

Special situations:

upon request

Width:

50 mm
BTL/BST englisch
Suitable for crack-free surfaces with up to 20 mm (± 10 mm) of floor/ground unevenness, e.g. concrete, corrugated sheet metal, tiles, stones, etc.
The Containment Barrier is comprised of a rectangular, integral hollow aluminium profiled body. A compressible, highly adaptable special seal is affixed to the bottom side. Special terminal nubs are applied on the topside.
The spill barrier body is set into two mounting devices. These mounting devices are securely mounted next to the opening to be protected or within the doorjamb and then tightly sealed against the building or structure. A vertical tensioning device is located on each of the mounting units (tension mounts). With these tensioning devices, the necessary force can be applied to secure the barrier body into place, press it against the seal of the mount and compress the floor/ground seal. A tightly sealed closure is thus guaranteed. The contact pressure is adjustable. The direction of pressure can be changed. The mounts and vertical tensioning devices are optimally adapted to the situation at hand in association with the length and retention height.
TÜV-certified safety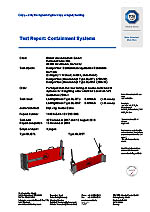 Wall mounts are included in the product package to provide for orderly storage.
Barrier bodies and mounting fixtures are furnished with a red paint finish, preferably "traffic red" RAL 3020. The remaining metal components are galvanized or made of aluminium.