Automatic Doorway Spill Barrier - Retention Barrier BL/BED-PM
Article Index: 070, 071, 072
BL/BED-PM
Horizontal swivelling capability

Pneumatically controlled - fully automatic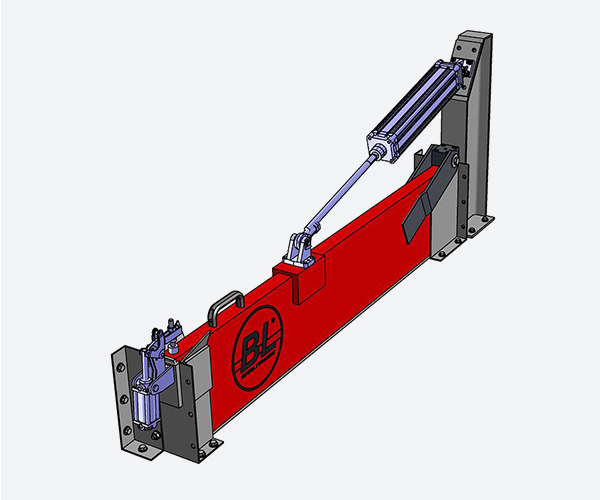 Dimensions

Standard height:

100–1000 mm

Standard length:

up to 6000 mm

Special situations:

upon request

Width:

50 mm
The automatic Spill Barrier BL/BED-PM is suitable for crack-free surfaces with up to 20 mm (± 10 mm) of floor/ground unevenness, e.g. concrete, corrugated sheet metal, tiles, stones, etc. The Containment Barrier features a trapezoidal, integral hollow aluminium profiled body. A compressible, highly adaptable, chemical resistant and fire retardant seal, according to DIN 4102 - B1, is affixed to the lower side and end faces. The rotating mount and tensioning device are securely mounted next to the opening to be secured and sealed.
The Spill Barrier body, firmly bolted in a hinge, is reinforced in the centre and includes a mounting eye for a pneumatic cylinder. The pneumatic cylinder is linked to a unique mount, which is likewise securely mounted to the floor/ground and sealed. The Spill Barrier BL/BED-PM is triggered by the push of a button or a 24 Volt DC signal which drops In the event of an emergency. The Spill Barrier closes fully automatically or travels back into the standby position. Operating pressure 4 - 10 bar.
TÜV-certified safety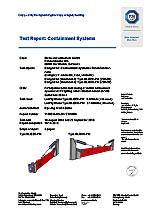 Depending on the requirements, the Containment Barrier BL/BED-PM is triggered by the Fire Control Switchboard, Flow Meters, Leakage Detectors or any other Hazard detection systems. Key features of the Spill Barrier BL/BED-PM are that it can be operated independently by a push button system, which allows for immediate action by personnel. Spills or contaminates of low volumes and any foam material also trigger the Containment Barrier. The Spill Barrier is installed on the floor surface, usually no modifications to the floor surface are required. This has the advantage that no hazardous material such as resins will clog or harden in floor sumps and prevent the barrier from being triggered. Furthermore, small amounts of hazardous materials or vapours are not being collected or trapped which may pose a ignition danger.
The Containment Barrier BL/BED-PM is fitted with an acoustic warning signal. With an upgrade package, a closing stop and visual warning light, as per the German VDS Guideline 2564, can be integrated. Equipped with a solenoid for Ex – Atmospheres, according to ATEX 95/137 and to USA NEC 500 and USA NEC 505, the Spill Barrier BL/BED-PM can be installed in the following Zones: 0, 1, 2, 20, 21, 22 classified by the EU or USA, Class 1 Division 1, Class 1 Division 2, Class 2 Division 1, Class 2 Division 2, Class 1 Zone 0, Class 1 Zone 1, Class 1 Zone 2.
The Spill Barrier body and mounting fixtures are powder coated, preferably in "signal red" RAL 3020. The remaining metal components are galvanized or aluminium.