Automatic Doorway Spill Barrier - Retention Barrier BL/BDD-PM
Article Index: 074, 075, 076
BL/BDD-PM
horizontal swivelling capability

Pneumatically controlled – fully automatic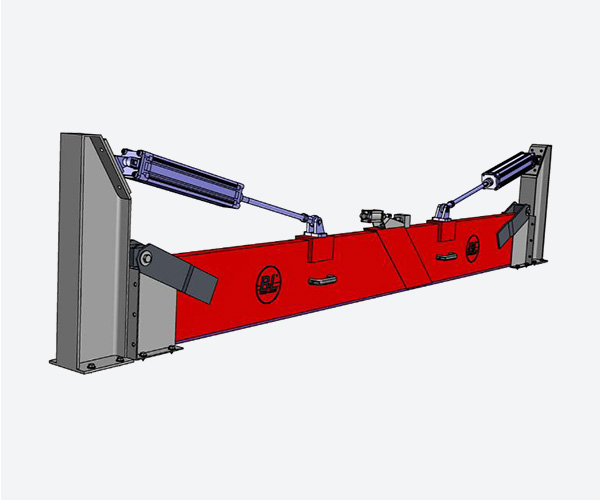 Dimensions

Standard height:

100–1000 mm

Standard length:

up to 12000 mm

Special situations:

upon request

Width:

50 mm
Suitable for crack-free surfaces with up to 20 mm (± 10 mm) of floor/ground unevenness, e.g. concrete, corrugated sheet metal, tiles, stones, etc.
The Doorway Spill Barrier is comprised of two trapezoidal, integral hollow aluminium profiled sections (elements). A compressible, highly adaptable special seal is affixed on its lower sides and end faces.
Both swivelling devices are securely mounted and sealed to the floor/ground and wall next to the opening to be protected. The closure bodies, firmly bolted in the hinges, are reinforced in the centre and provided with a mounting eye for pneumatic cylinders. A thrust-type tension device is also mounted on one of the closure bodies. Pneumatic cylinders are linked to the special mounts. Operating pressure 4-10 bar.
Barrier bodies and mounting fixtures are furnished with a red paint finish, preferably "traffic red" RAL 3020. The remaining metal components are galvanized or made of aluminium.
TÜV-certified safety